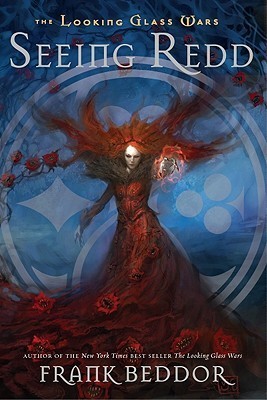 TITLE:
Seeing Redd
AUTHOR:
Frank Beddor
AUTHOR WEBSITE
: www.LookingGlassWars.com
GENRE:
Young Adult, Fantasy, Adventure, Steampunk
PUBLISHED:
August 21, 2007 – Dial Books
SYNOPSIS:
Alyss of Wonderland's rule has only just begun, but the Queendom and her White Imagination are already under threat. Someone has resurrected the brutal Glass Eyes, and they are attacking Wonderland on all sides.

Has renegade Redd Heart freed herself and her assassin Cat from the prism of the Heart Crystal?

Can Alyss trust Boarderland's King Arch, as he extends a benevolent helping hand?

A battle is raging but who is the enemy?
REVIEW:
Book 2 of the Looking Glass Wars Trilogyis a wonderful extension of the story in Wonderland. It isn't as good as the first book but it isn't without twists and turns in the story with a great set up for Book 3: ARCHENEMY.
Alyss is coronated as the queen of Wonderland. The new found peace is again being threatened. Even as Alyss is still trying to figure out her duties rumors have begun to spread about the return of Redd. The queendom finds itself under attack by Redd's glass eyes. Is it Redd herself? More factors come into play in this intricate novel. Hatter defecting? Jack of Diamonds escaping the mines? Arch, the king of the Borderlands, isn't as innocent as he seems? The story ends in a precarious spot, as should the second book of a trilogy. I'm eager to read the third book.
In the bio about the author it says he spent 3 years planning this trilogy before he wrote one word. It truly shows. I can see bulletin boards of all the details he's imagined. It also mentions that he is writing the screenplay to make the trilogy into a movie… I'M THERE! I'd love to see this on the big screen!
RATING:
Naturally, I give this book a 4: Very Good: A very good choice to read. I love the details in this book. The descriptions of all the strange places are cool: the Valley of Mushrooms, Chessboard Desert. The unusual animals, creatures and characters are superb in this intricately planned series.
More Books by Frank Beddor:
The Looking Glass Wars Series: