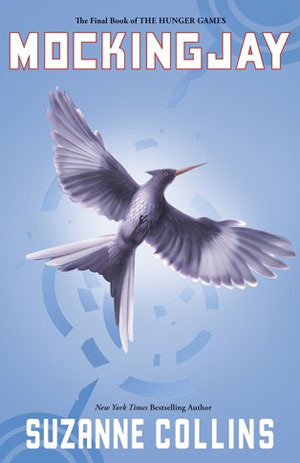 AUTHOR:
Suzanne Collins

AUTHOR WEBSITE
: www.suzannecollinsbooks.com
GENRE:
Young Adult, Sci-Fi, Dystopia, Apocalyptic
PUBLISHED:
August 24, 2010 - Scholastic
MY RATING: 4
SYNOPSIS:
Katniss Everdeen, girl on fire, has survived, even though her home has been destroyed. Gale has escaped. Katniss's family is safe. Peeta has been captured by the Capitol. District 13 really does exist. There are rebels. There are new leaders. A revolution is unfolding.

It is by design that Katniss was rescued from the arena in the cruel and haunting Quarter Quell, and it is by design that she has long been part of the revolution without knowing it. District 13 has come out of the shadows and is plotting to overthrow the Capitol. Everyone, it seems, has had a hand in the carefully laid plans--except Katniss.

The success of the rebellion hinges on Katniss's willingness to be a pawn, to accept responsibility for countless lives, and to change the course of the future of Panem. To do this, she must put aside her feelings of anger and distrust. She must become the rebels' Mockingjay--no matter what the personal cost.
REVIEW:
I am in love with your story telling. Not only did you captivate me for three whole books now, but I loved each one for a different reason. Concerning the last one, MOCKINGJAY you've ended this horrifying adventure quite bittersweetly. I didn't know what to expect as I read about Katniss Everdeen being scooped up and hauled off to District 13. I loved hearing about that whole new area that lived quite the opposite of the rest of Panem—under the ground. The rebels waged a war against the Capitol and icky President Snow, which satisfied my own desire to rebel against this unjust and corrupt society. She agrees to be the face of the rebellion as the Mockingjay and I couldn't read it fast enough.
Katniss never ceased to surprise me. She is strong and wild. I had no idea what she would do next and enjoyed her unexpected actions. Her life never seemed to be her own and, under the circumstances, much of what she did was realistic yet sometimes crazy.
Thank you for this traumatic trilogy. It scared me, made me hungry, paranoid and tired (from staying up all hours to read.) It was an excellent read!
RATING:
I'd rate this book at a 4. A very good read. For the entire series I'd rate it at a 4. It actually lives up to the hype! It is not on my favorites list, but it is quite and experience to read.
RECOMMENDATIONS:
This book is rather violent and action filled. In my mind, it is a rated "R" movie. But the box office doesn't seem to agree with me. There is no sex or language but the violence is off the charts.
More Books by Suzanne Collins:
The Hunger Games Trilogy: